Year: 2010 | Genre: Arcade / Racing / Simulator / 3D / Privateer / Trader | Developer: SoftlabNsk | Publisher: SoftlabNsk | Publication Type: license | Language: German | Voice set Language: English | The medicine: not required | Size: 3.52 GB
Continuation of the famous game series. But this time the game world is not invented by developers, and copied from the real world. The player will leave under the wheels of his powerful machine hundreds of miles of roads in California from San Francisco to Reno, from Eureka to San Diego. The player will earn the respect of corporate clients, proving that he is the fastest and most reliable dal'noboyshchika California to achieve recognition in the medium truck, racing and simply colliding with them in various situations in daily life. During the game the player will also have to confirm his leadership a powerful transport corporation, which claims to primacy in the field of long-range transport of the state.
Features:
* Licensed trucks, including Freightliner, Western Star, Sterling, and more than thirty types of trailers.
* About a hundred technical improvements, a lot of options for coloring the body and cabin design of each car.
* Modern highways of this California, recreated on a scale of one to ten.
* Realistic physics objects and damage system, taking into account many different factors.
* More than three hundred jobs from the exercise of which depends on the reputation of the hero.
* Support trehpedalnyh game steering wheels with the function of Force Feedback and other controllers.
System requirements:
* Operating system Windows 2000/XP/Vista/7;
* Processor Intel Core 2 Duo processor with a clock speed of 3.0 GHz;
* 2,0 GB of RAM;
* Video card, NVIDIA GeForce 8800 class or the Radeon HD 3870 with 256 MB of video memory or higher, compatible with DirectX 9.0;
* Sound card compatible with DirectX 9.0;
* 10 GB free hard disk space;
* DirectX 9.0s;
* Keyboard and mouse;
* Game steering wheel, pedals.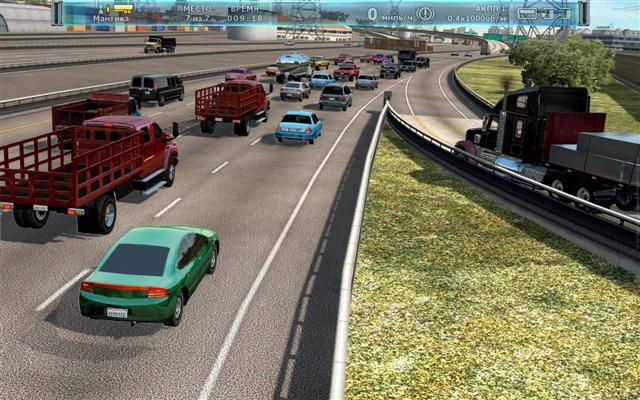 Download
Depositfiles 1
Depositfiles 2
Depositfiles 3
Depositfiles 4
Depositfiles 5
Depositfiles 6
Depositfiles 7
Depositfiles 8
Depositfiles 9
Depositfiles 10
Depositfiles 11
Depositfiles 12
Depositfiles 13
Depositfiles 14
Depositfiles 15
Depositfiles 16
Depositfiles 17
Depositfiles 18
Depositfiles 19
Rig.n.Roll.Die.Truck-Simulation.2010.DE.ENG.part01.rar
Rig.n.Roll.Die.Truck-Simulation.2010.DE.ENG.part02.rar
Rig.n.Roll.Die.Truck-Simulation.2010.DE.ENG.part03.rar
Rig.n.Roll.Die.Truck-Simulation.2010.DE.ENG.part04.rar
Rig.n.Roll.Die.Truck-Simulation.2010.DE.ENG.part05.rar
Rig.n.Roll.Die.Truck-Simulation.2010.DE.ENG.part06.rar
Rig.n.Roll.Die.Truck-Simulation.2010.DE.ENG.part07.rar
Rig.n.Roll.Die.Truck-Simulation.2010.DE.ENG.part08.rar
Rig.n.Roll.Die.Truck-Simulation.2010.DE.ENG.part09.rar
Rig.n.Roll.Die.Truck-Simulation.2010.DE.ENG.part10.rar
Rig.n.Roll.Die.Truck-Simulation.2010.DE.ENG.part11.rar
Rig.n.Roll.Die.Truck-Simulation.2010.DE.ENG.part12.rar
Rig.n.Roll.Die.Truck-Simulation.2010.DE.ENG.part13.rar
Rig.n.Roll.Die.Truck-Simulation.2010.DE.ENG.part14.rar
Rig.n.Roll.Die.Truck-Simulation.2010.DE.ENG.part15.rar
Rig.n.Roll.Die.Truck-Simulation.2010.DE.ENG.part16.rar
Rig.n.Roll.Die.Truck-Simulation.2010.DE.ENG.part17.rar
Rig.n.Roll.Die.Truck-Simulation.2010.DE.ENG.part18.rar
Rig.n.Roll.Die.Truck-Simulation.2010.DE.ENG.part19.rar
Rapidshare 1
Rapidshare 2
Rapidshare 3
Rapidshare 4
Rapidshare 5
Rapidshare 6
Rapidshare 7
Rapidshare 8
Rapidshare 9
Rapidshare 10
Rapidshare 11
Rapidshare 12
Rapidshare 13
Rapidshare 14
Rapidshare 15
Rapidshare 16
Rapidshare 17
Rapidshare 18
Rapidshare 19
Download File