A Great Korean love story deserved High quality, English subtitle finally !
My.Sassy.Girl.2001.BluRay.1080p.DTS.x264-CHD
Ratings:
8.1/10
from 20,182 users
Yeopgijeogin geunyeo (original title)
Directed by: Jae-young Kwak
Genre: Comedy | Drama | Romance
Runtime: 02:03:35 (h:m:s)
Language: Korean
Subtitles
: ENGLISH .srt
Plot:
Based on a series of true stories posted by Ho-sik Kim on the Internet describing his relationship with his girlfriend. These were later transformed into a best-selling book and the movie follows the book closely. It describes the meeting of Kyun-woo (Cha) and an unnamed girl. Kyun-woo is shamed into assisting the girl because the other passengers mistakenly think she is his girlfriend. Once he helps her, Kyun-woo develops a deep sense of responsibility for her which enables him to tolerate (somehow) the girls abuses.
Cast: Jeon Ji-hyun, Cha Tae-hyun, Yang Kum-young, Kim Il-woo
SOURCE : My Sassy Girl 2001 RUS BluRay REMUX 1080p AVC DTS-HD MA5.1
ViDEO BiTRATE: x264 L4.1 High @ 11103 Kbps
FRAME RATE: 23.976 fps
AUDiO 1: Korean DTS 5.1 1509Kbps
ASPECT RATiO: 1.851 : 1
RESOLUTiON: 1918 X 1036
ENCODER: hahay0yo@CHD
Subtitles
: ENGLISH .srt
IMDb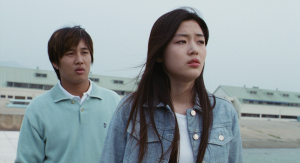 Video Sample
10.8 gb
Download File
Download from Extabit:
Part1
Part2
Part3
[hide_group=1]ADMIN ONLY:
http://ul.to/osi3ypig/My.Sassy.Girl.2001.BluRay.1080p.DTS.x264-CHD.part1.rar
http://ul.to/ixnbbp6f/My.Sassy.Girl.2001.BluRay.1080p.DTS.x264-CHD.part2.rar
http://ul.to/wfrue68g/My.Sassy.Girl.2001.BluRay.1080p.DTS.x264-CHD.part3.rar
[/hide_group]