This is the first full-length release from the Los Angeles (by way of St. Louis) duo of Coultrain and Black Spade, aka Hawthorne Headhunters. The Hip Hop/Electro-Soul duo Hawthorne Headhunters' "Myriad of Now" is a 15-track record that expands on the 5-track "Myriad of Now EP" the duo released back in October. The album features HH's special brand of progressive electronic infused soul with guest spots from Von Pea (1/2 of the hip hop duo Tanya Morgan), I Am and Haz Solo.
Hawthorne Headhunters - Myriad of Now [2012] [Album]
Release / CD
FLAC Lossless / Scene
MP3 V0 (VBR) / Scene
The tracks on the album can be divided into two categories: the self-indulgent messes that sound like they were thrown together by talented 14 year olds with access to someone's collection of old Cameo LPs, and the quirky but brilliant neo-funk tracks that draw simultaneously on old-school R&B and new-school electro to create something both forward-looking and traditional. The unbelievably awkward "Teleport" is a mess; it neither features a real melody nor any groove to speak of, nor lyrics worth listening to. "My Sweetheart the Drunk" and "Luv Galactic" are both much better, and feature very fine vocals from I Am. "Yellow Cougar" is also much more engaging, largely because the beats are straightforward and steady, and the sweetly layered backing vocals (from I Am again) give the whole track a lovely sheen. "No Cryin' Now, No Lyin' Down," on the other hand, falls somewhere in the middle: the sung melody is a mess, but the harmonies are lovely; the groove is plodding, but at least it's solid, whereas "Whirlwind" features a clear and attractive melody and not much else, and "Ghostfields" is an instrumental built on a brilliantly funky groove and nicely pairs goofy synthesizer sounds with what sounds like a real acoustic guitar. "Fairweather" features some fine tag-team rapping from Von Pea and Haz Solo, and "Hole in the World" is electro-soul that chugs along on a sort of house-based beat. "Tribute" ends the album on a staggering 6/8 non-groove that leaves the listener disoriented and not particularly inspired. Strip out about half of the tracks on this program and you'd have a great EP; as a full-length album, though, it's a mixed success at best.
Tracklisting
01. Sum People Don't Change 4:02
02. Collage (Feat. Rockwell Knuckles & Poe) 3:33
03. Luv Galactic (Feat. I Am) 5:10
04. If U Were My Baby 3:32
05. If U Were My Baby (Reprise) 3:59
06. My Sweetheart The Drunk 3:07
07. Boats In Ur Eyes (Feat. I Am) 4:31
08. Teleport 3:29
09. Yellow Cougar 4:30
10. No Cryin' Now, No Lyin' Down 3:03
11. Whirlwind 4:27
12. Ghostfields 3:48
13. Fairweather (Feat. Von Pea & Haz Solo) 5:46
14. Hole In The World 7:17
15. Tribute 3:21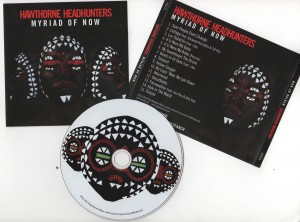 Download File
Hawthorne_Headhunters-Myriad_Of_Now-2012-C4
Download from
Extabit
Uploaded.to
|
Exoshare
Hawthorne_Headhunters-Myriad_Of_Now-CD-FLAC-2012-PERFECT
Download from
Extabit
Uploaded.to
|
Exoshare