Bluray Hara-Kiri: Death of a Samurai From the director of 13 Assassins "A terrific samurai epic"
Japanese director Takashi Miike's highly-anticipated Ichimei a.k.a Hara-Kiri: Death of a Samurai (2011), a remake of Masaki Kobayashi's classic Seppuku a.k.a Harakiri. Earlier this year, director Miike's film was nominated for the prestigious Palme d'Or Award at the Cannes Film Festival.
Release Info
ENCODER: Island
RELEASE DATE: 2012-04-26
RELEASE SIZE:
6.55 GiB
/
12 GiB
SOURCE: Blu-ray.AVC.DTS-HDMA5.1-HDChina
Media Info
RUNTIME: 2h:06m:38s
VIDEO CODEC: x264: 2pass-L4.1 @
6646 Kbps
/
12828 Kbps
RESOLUTION: 1280x534 / 1920x800
DISPLAY ASPECT RATIO: 2.40:1
FRAME RATE: 23.976 fps
AUDiO CODEC: Japanese DTS @ 768 Kbps
An tale of revenge, honor and disgrace, centering on a poverty-stricken samurai who discovers the fate of his ronin son-in-law, setting in motion a tense showdown of vengeance against the house of a feudal lord.
Starring: Koji Yakusho, Hikari Mitsushima, Naoto Takenaka
Director: Takashi Miike
Hara-Kiri.Death.Of.A.Samurai.2011.720p.BluRay.x264.DTS-WiKi.mkv
Hara-Kiri.Death.Of.A.Samurai.2011.1080p.BluRay.x264.DTS-WiKi.mkv
IMDb
720p Video Sample
1080p Video Sample
720p NFO
1080p NFO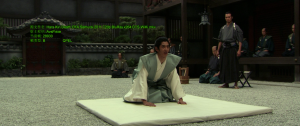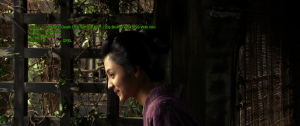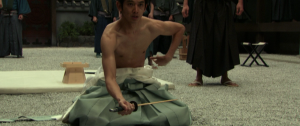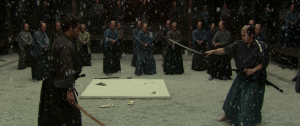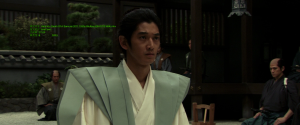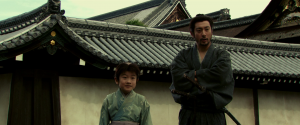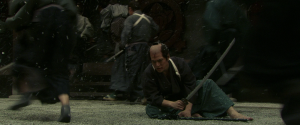 Download File
Hara-Kiri.Death.Of.A.Samurai.2011.720p.BluRay.x264.DTS-WiKi
Download from Extabit
Hara-Kiri.Death.Of.A.Samurai.2011.1080p.BluRay.x264.DTS-WiKi
Part1
Part2
Part3
Part4
Part5
Part6
Part7
[hide_group=1]ADMIN ONLY:
http://rapidshare.com/files/234732167/Hara-Kiri.Death.Of.A.Samurai.2011.1080p.BluRay.x264.DTS-WiKi.part1.rar
http://rapidshare.com/files/1441496280/Hara-Kiri.Death.Of.A.Samurai.2011.1080p.BluRay.x264.DTS-WiKi.part2.rar
http://rapidshare.com/files/2254959894/Hara-Kiri.Death.Of.A.Samurai.2011.1080p.BluRay.x264.DTS-WiKi.part3.rar
http://rapidshare.com/files/3610368095/Hara-Kiri.Death.Of.A.Samurai.2011.1080p.BluRay.x264.DTS-WiKi.part4.rar
http://rapidshare.com/files/3410766145/Hara-Kiri.Death.Of.A.Samurai.2011.1080p.BluRay.x264.DTS-WiKi.part5.rar
http://rapidshare.com/files/2864026681/Hara-Kiri.Death.Of.A.Samurai.2011.1080p.BluRay.x264.DTS-WiKi.part6.rar
http://rapidshare.com/files/2984485922/Hara-Kiri.Death.Of.A.Samurai.2011.1080p.BluRay.x264.DTS-WiKi.part7.rar
http://rapidshare.com/files/2086628000/Hara-Kiri.Death.Of.A.Samurai.2011.720p.BluRay.x264.DTS-WiKi.part1.rar
http://rapidshare.com/files/784067943/Hara-Kiri.Death.Of.A.Samurai.2011.720p.BluRay.x264.DTS-WiKi.part2.rar
http://rapidshare.com/files/1443292594/Hara-Kiri.Death.Of.A.Samurai.2011.720p.BluRay.x264.DTS-WiKi.part3.rar
http://rapidshare.com/files/3189574890/Hara-Kiri.Death.Of.A.Samurai.2011.720p.BluRay.x264.DTS-WiKi.part4.rar
http://ul.to/0sjnjr89/Hara-Kiri.Death.Of.A.Samurai.2011.1080p.BluRay.x264.DTS-WiKi.part1.rar
http://ul.to/05fyjz2v/Hara-Kiri.Death.Of.A.Samurai.2011.1080p.BluRay.x264.DTS-WiKi.part2.rar
http://ul.to/twzxdi8h/Hara-Kiri.Death.Of.A.Samurai.2011.1080p.BluRay.x264.DTS-WiKi.part3.rar
http://ul.to/bai4sfdd/Hara-Kiri.Death.Of.A.Samurai.2011.1080p.BluRay.x264.DTS-WiKi.part4.rar
http://ul.to/r8lowyz6/Hara-Kiri.Death.Of.A.Samurai.2011.1080p.BluRay.x264.DTS-WiKi.part5.rar
http://ul.to/88kx78ow/Hara-Kiri.Death.Of.A.Samurai.2011.1080p.BluRay.x264.DTS-WiKi.part6.rar
http://ul.to/vfq1j3so/Hara-Kiri.Death.Of.A.Samurai.2011.1080p.BluRay.x264.DTS-WiKi.part7.rar
http://ul.to/2psn21fx/Hara-Kiri.Death.Of.A.Samurai.2011.720p.BluRay.x264.DTS-WiKi.part1.rar
http://ul.to/ym7gcugd/Hara-Kiri.Death.Of.A.Samurai.2011.720p.BluRay.x264.DTS-WiKi.part2.rar
http://ul.to/kannhtot/Hara-Kiri.Death.Of.A.Samurai.2011.720p.BluRay.x264.DTS-WiKi.part3.rar
http://ul.to/g8a50vnv/Hara-Kiri.Death.Of.A.Samurai.2011.720p.BluRay.x264.DTS-WiKi.part4.rar
[/hide_group]