2013 Dragon Ball Z: Battle of Gods Movie!!!
The Z-Fighters must contend with Bills, the God of Destruction. But it takes a god to fight a god, and none of them are gods... not even the Saiyans.
Dragon Ball Z: Battle of Gods (ドラゴンボールZ 神と神 Doragon Bōru Zetto: Kami to Kami?, lit. "Dragon Ball Z: God and God") is the eighteenth Japanese animated feature film based on the Dragon Ball series, released in theaters on March 30, 2013. It is the first Dragon Ball movie in 17 years to have a theatrical release, the last being the tenth anniversary movie in 1996, which followed the first three Dragon Ball films and the thirteen Dragon Ball Z films. Battle of Gods is the first-ever Japanese film to be screened at IMAX Digital Theaters, and was released on Blu-ray and DVD on September 13, 2013.
Director: Masahiro Hosoda
Writers: Akira Toriyama (manga), Akira Toriyama (original author)
Stars: Masako Nozawa, Shigeru Chiba, Hiroko Emori
◎译  名 龙珠Z:神与神
◎片  名 ドラゴンボールZ 神と神
◎上映时间 2013-03-30
◎制片地区 日本
◎类  别 动画
◎出品公司 Toei Co. Ltd.
◎导  演 细田雅弘
◎主  演  野泽雅子 / 堀川亮 / 草尾毅 / 古川登志夫 / 田中真弓 / 山寺宏一 / 森田成一
◎简  介 
  2012年7月在《少年JUMP》官网上存在的"最强、始动"的《D》字计划终于揭开全貌,由鸟山明先生原作的大人气漫画《龙珠》的系列动画《龙珠Z》将推出剧场版,并预定于2013年3月全日本上映!
  距离《龙珠》动画系列的上一部剧场版(龙珠剧场版第17弹《迈向最强之道》 )已经快要经过第十七个年头,作为动画系列剧场版第18部作品,鸟山明先生将从本作的脚本阶段开始与制作组进行深度合作,监督由参加过《龙珠Z》与《游戏王DM》制作的细田雅弘担任,脚本请来了参与《杀戮都市》和《20世纪少年》系列制作的渡边雄介,作画监督继续沿用《龙珠》系列的老人山室直仪,美术监督则请来了参与《EVA》和《宇宙兄弟》的加藤浩。这些人将紧密团结在鸟山明先生周围,打造新世纪的《龙珠》动画。
  这次剧场版的故事时间设定在动画《龙珠Z》与《龙珠GT》之间,也就是说是在原作第517话魔人布欧被打败之后与第518话之间空白的10年。这个时间内发生的插曲将在本剧场版内揭晓,比克、小林、贝吉塔等大家熟悉的角色将悉数登场,另外此次故事既不是特别篇也不是番外篇,而是作为龙珠世界的正史展开!全人类都在期待的伟大动画终于再次开始制作。
Dragon Ball Z:Battle of Gods.2013.BDrip.1080P MKV-Hakugetsu&Speed&MGRT
IMDb
Ratings:

8.9

/10
from 2,084 users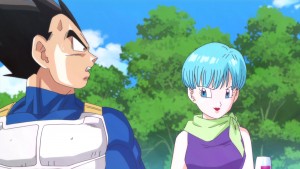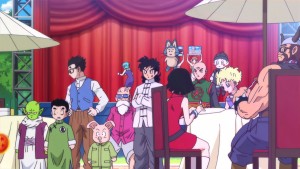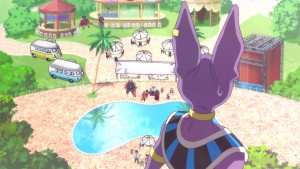 Download File
[Dragon Ball Z:Battle of Gods][1080P][x264(10bit)_AAC].mkv