Update
: XviD BDrip release from scene group FUTURE Welcome to 2012, where we don't store our stuff on cdrs anymore, in fact not even on dvdrs or bdrs Lets therefore welcome the next evolution, and step away from the past, and into the future After TV mostly moved to x264, it's time to do the same for the outdated xvid movie releases Make it up to par with the quality of most other releases. You all know how x264 performs compared to Xvid There is no reason for keeping sd movies so low quality anymore, and i assume most people would agree i know groups are against any changes, that's why they still pre CD sized releases x264 has become the most advanced H264 video encoder over the past few years. Compared to XviD, it is able to provide higher quality and compression at greater SD resolutions. It also allows better control and transparency over encoding settings. With CRF in the mix, we can also ensure that a diverse array of material will get the most appropriate bitrate for them and not arbitrarily fixed sizes
Dark.Shadows.2012.READ.NFO.DVDRip.XviD-iLG
READ NFO:
Our previous release R5 was "fine", was not "stolen" as an incompetent nuker asserted without any technical knowledge. For "EVERY rip you will do from sources with same LENGHT" (also differend DVD with different audios or subtitles and region) you will have same number of frames ALWAYS, and an example with another movies was produced with tinypic.
Your JPG proves that number of frames is the same, "YOU ARE RIGHT" but "DON'T" proves the solen. If you don't know these thing waste your time to do something else... with girls or something else for example.
Codec: XVID
Bitrate: 1410
Resolution: 640x352
Audio: AC3 Dolby Digital, 384kbs, 48000, CBR, 5.1
Len: 109mins
Fps: 25.000
Subs: ENG
Source: PAL DVD R2.
IMDb
iLG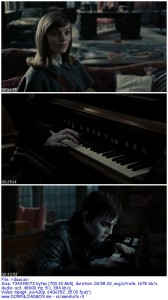 FUTURE
Download File
Dark.Shadows.2012.READ.NFO.DVDRip.XviD-iLG
Netload
Cd1
|
Cd2
Extabit
Cd1
|
Cd2
Dark.Shadows.2012.BDRip.x264-FUTURE
Netload
|
Extabit
|
Exoshare