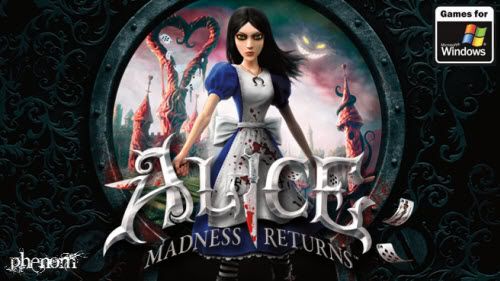 Alice - Madness Returns (Repack/Precrack+Fix) | PC | Genre: Arcade / 3D / 3rd Person
Developer: Spicy Horse | Publisher: Electronic Arts | Size: 3.71 GB | Language: English
After Alice's family perished when her family home burned in 1863, she spent a decade convalescing in Rutledge Asylum before recovering enough to work at the Houndsditch Home orphanage in return for treatment from Dr. Angus Bumby. At Rutledge, Alice escaped her cruel burns and survivor's guilt by falling into Wonderland, the twisted and cruel world Alice constructed to make sense of the torments that had befallen her. Between working at Houndsditch Home and wandering the seedier side of London, Alice uncovers the suppressed memories that suggest her family's deaths may not have been an accident.
With her mind in tatters, she is unable to resolve the fear prompted by her strange memories, dreams, and visions. Perhaps she'll do better in Wonderland. She always has. She travels there, seeking what the "real" world can't provide: security, knowledge, and the truth about the past. But in her absence, Wonderland too has suffered. Something has gone horribly wrong, and now a great evil is descending upon what once was her beautiful refuge. Can Alice save Wonderland-and herself-from the madness that consumes them both?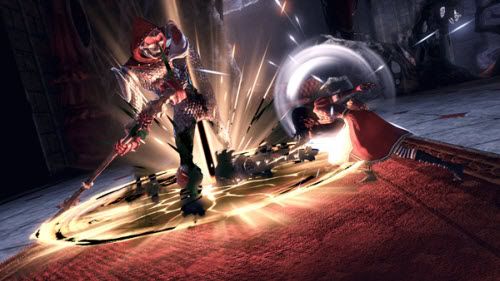 Game Features:
* Intense 3rd-person Action - Use multiple upgradeable melee weapons, including the explosive Teapot Cannon, the punishing Hobby Horse, and the classic Vorpal Blade.
* Explore a Dark and Shattered Wonderland - Encounter familiar, but now strange characters including the Cheshire Cat, the Mad Hatter, the Caterpillar and the Red Queen.
* Magical Abilities - Obtain peculiar abilities in Wonderland such as floating with Alice's dress, shrinking and growing to towering sizes in order to crush enemies.
* Interactive Puzzles - Intuitive and rewarding puzzles such as transforming obstacles, musical memories chess and picture blocks.
* A Visually unique Gameworld - Delight in the whims of the ever-changing visual aspects of the gameworld which visually affect everything in the game, including Alice and her attire.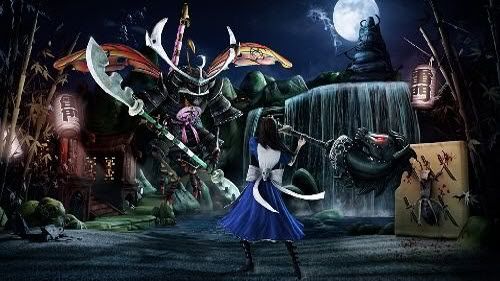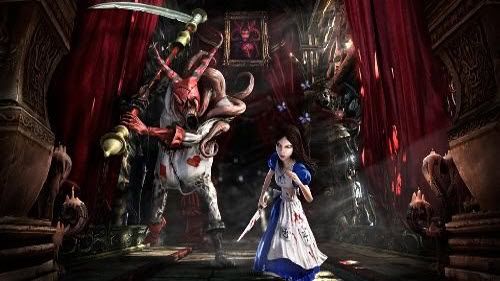 System Requirements:
* Windows XP (SP3) / Vista (SP2) / Windows 7
* Intel Core 2 Duo (or equivalent) running at 1.6 GHZ or greater / AMD Athalon X2 running at 1.60 GHz or greater
* 2048 MB of RAM or greater
* DVD ROM required for installation only
* At least 8.5 GB of free space
* NVIDIA GeForce 7600 256 MB PCIe or ATI Radeon X1650 256 MB PCIe or greater
* DirectX 9.0c compatible (Windows 7 required for DirectX 10/11)
* Keyboard and mouse or dual analog controller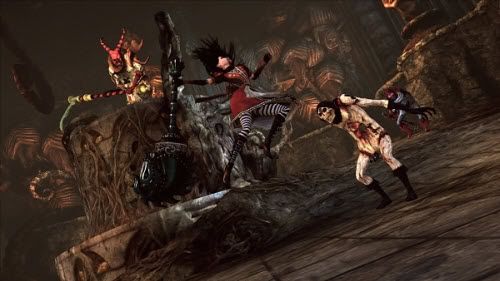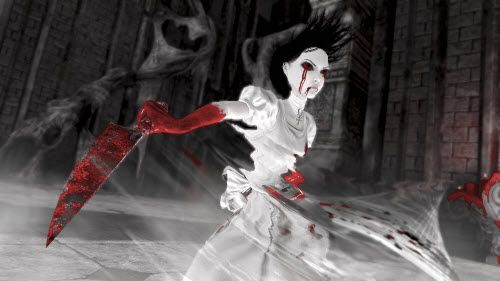 Repack Features: [BLACK BOX]
Delete other languages except English
Added THETA Crack
Video Recoded to Lower Bitrate
Added Registry for 32bit & 64bit
Keep original exe in rar file
Need at least 1 GB RAM to Decompress
Need at least 8 GB free space to Decompress
Our Exclusive Installer
Include (DirectX, Visual Basic.....)
Start the game from desktop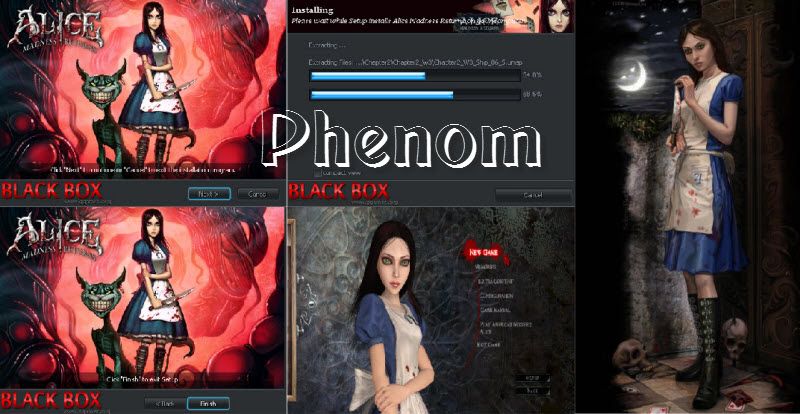 UMBRELLA FIX
C:\Program Files\Black_Box\Alice Madness Returns\Alice2\AliceGame\Config
Edit: 1. DefaultInput.ini.
CHANGE -----> +Bindings=(Name="E",Command="TriggerBlock true | OnRelease TriggerBlock false")
TO -----> +Bindings=(Name="G",Command="TriggerBlock true | OnRelease TriggerBlock false")
2. DefaultControlLayout.ini
CHANGE -----> KeyBindArray1=(Name="E",Command="TriggerBlock true| OnRelease TriggerBlock false")
TO -----> KeyBindArray1=(Name="G",Command="TriggerBlock true| OnRelease TriggerBlock false")
Start the game. go to CONFIGURATION/CONTROLS/KEYBOARD
Reset CONTROLS to DEFAULT then CONFIRM
EXIT and RESTART the game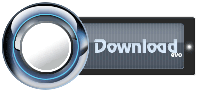 http://fileserve.com/list/RuPNFp2

http://www.filesonic.com/folder/7515311
Download File